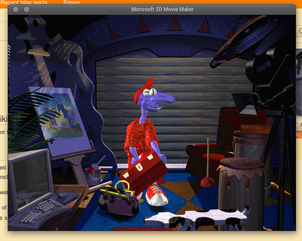 Check it out! No color issues running 3D Movie Maker in Wine 1.4!!
Unfortunately, FPS sound still seems to be an issue, and I haven't found a solution to that yet (seems to be related to running Wine on Ubuntu, seeing as Wine doesn't like PuleAudio).
The screenshot is taken with 3DMM running in wine in XP mode, but it will run full screen if configured to run as win9x.
I'm hopeful that one day this will all be possible with open source, especially considering microsoft is not offering us any way to use their old software on any of their *supported* platforms.